NEW Jacquard Blackout Roller Blinds White Coated Back Blackout Shades Solid Full Shade Thick Window Blinds Custom Made Model 530 Series
stars, based on
12
reviews
$210.90now$1.00 piece
Color

5301 (Blackout)

5302 (Blackout)

5304 (Blackout)

5305 (Blackout)
Size

W60-H180cm

W70-H180cm

W80-H180cm

W90-H180cm

W100-H180cm

W110-H180cm

W120-H180cm

W130-H180cm

W140-H180cm

W150-H180cm

W160-H180cm

W170-H180cm

W180-H180cm

Update Electric

Pay balance
Contact Us
不能存图片
Blackout Roller Shades
Blockout Roller Blinds are there to stop the sun in its tracks and keep the glare at bay. Put them in your bedroom for a perfect night's sleep or anywhere else where the sun gets too much. If you need something snazzy for your kitchen or bathroom, try our waterproof Ocean collection of PVC blinds. They can withstand the harshest environments with ease at the same time as brightening up your day. If it's a view you need our Sunscreens, voiles and Enjoy Vision blinds will protect your privacy and let you see outside.Manual Cord control or Electric remote control options.

Custom Made Controls Selection Click:
Manual Standard
Manual Cassette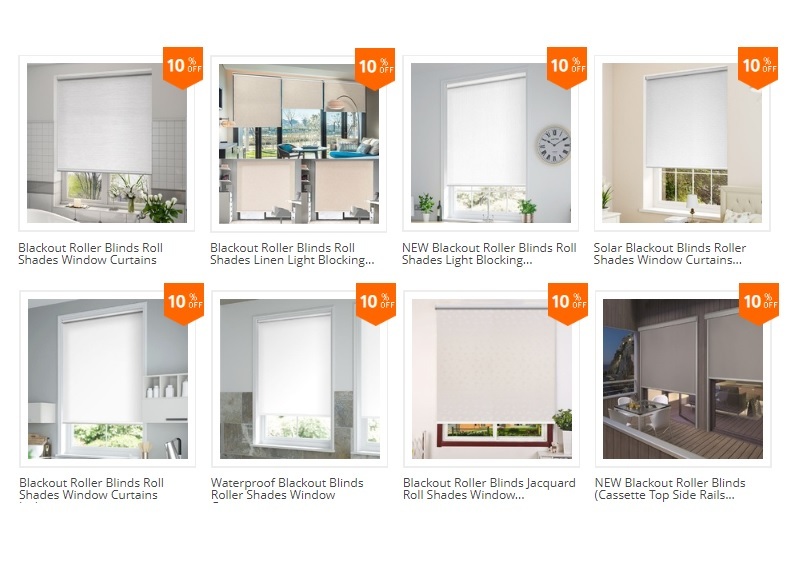 1. The Standard size ball chain is on right side. If you want the ball chain on left side, please leave message to us.
2. Measure tips :

We make blinds wide included left / right brackets up total wide...




We make blinds height included top brackets and bottom rail up total height ...

Please tell us your roller blinds size( we produce the blinds size exactly as you leave us)

3. The maximum width to Russian is 180cm including package.




4. CUSTOM SIZES:

Wide (30-260)cm | (12''-102'')inch,High (30-300)cm | (12''- 120'')inch , if your window width is over 250cm, we suggest to divided into 2pcs small blinds.

5. We usually write the package value as $15~$20 to avoid the custom taxes.

6. Please contact us if any questions. We will reply you within 24hours.
Please tell you window details before place order
1.Product name(or product link) * Quantity * wide * high * Color?
2.Installation ? (Ceilling = inside means install inside window frame or Wall = outside means covered window frame ?)
Then,We will quote best price and tell you how to pay online in easily way.
Email : hdcblinds@gmail.com
Skype: homelle-dec
Brand Name:

KARLLEO
Model:

Blackout Roller Blinds
Custom Made:

Size | Color | (finished product)
MOQ:

1set custom made different sizes
Control Options:

Manual (Bead Rope) (Cordless) | Electric (Remote control)
Shading rate:
Installation Type:
Production Time:
Package:
Use:
ByRockyFriday, 21 May 2021
ByDeNae Elizabeth BubeFriday, 21 May 2021
I appreciate that this vendor has so many sizes available. I found the perfect width and length to cover my front door oval-light for privacy or block the sun, when needed. It was easy to install and the price is great.
ByAngeloMonday, 10 May 2021
very easy to install and really blocks out the sun doing the day.
ByCesar tavarezTuesday, 04 May 2021
They really black the room out. Just got them up today. They are great. I just don't like the holder that hold the chain. I decided to not put it on and just let it hang.
ByCarrieSaturday, 01 May 2021
I hardly leave reviews, but definitely felt like this deserved one. These are such great quality and fully block the sun out! I love that you can install inside the window frame or outside as well.
ByAnt USATuesday, 20 April 2021
Very nice product, was well packed so it could not get damaged during shipment.
ByNan McDTuesday, 20 April 2021
I love how easy this installed besides many options to hanging this inside the window frame, it's easy going up and down!
ByAnonThursday, 15 April 2021
good product. Easy install. Customer service is top notch.
ByKailinSaturday, 10 April 2021
Very easy outside the window install. Work great. Block every bit of light
Bydavid davisonMonday, 05 April 2021
Shades are never easy to install, especially the wider they get. Don't know what they mean stretch, but they easily go up and down smoothly. I would have liked the projection shorter for a closer fit to the glass, but I understand the concept..... the longer the shape, the thicker the diameter, therefore the projection will be further. Good quality though.
Bymoein negahban zadehWednesday, 31 March 2021
Got mine up and I absolutely love them. Are really great for keeping the light out and the pull cord come with the nifty little anchor so cats and kids can't play with the cords.
ByfraamusMonday, 01 March 2021
These are true black out pull down shades. I got them to replace the factory felt ones and they are so much better and still lightweight. Super easy install and these are the cheapest I have found! Worth the buck!