Cellular Shades Honeycomb Blinds Pleated Blinds (Top Down Bottom Up)Easy Fix Inverted Window Glass Custom Made
stars, based on
5
reviews
$186.10now$1.00 piece
Color

B01 -Blackout

B03 -Blackout

B12 -Blackout

B18 -Blackout

B23 -Blackout

B26 -Blackout

B28 -Blackout

B518 -Blackout

H01 -Light filtering

H03 -Light filtering

H11 -Light filtering

H12 -Light filtering

H13 -Light filtering

H15 -Light filtering

H18 -Light filtering

H22 Water Blue

H23 -Light filtering

H27 -Light filtering

H160 -Light filtering

H518 -Light filtering
Size

W 50 - H 100 cm

W 60 - H 120 cm

W 70 - H 150 cm

W 80 - H 150 cm

W 90 - H 150 cm

W 100 - H 150 cm

W 110 - H 150 cm

W 120 - H 150 cm

W 130 - H 150 cm

W 80 - H200 cm

W 90 - H 200 cm

Pay Balance
Contact Us
不能存图片
Cellular Shades Honeycomb Blinds Pleated Curtains (Top Down Bottom Up)Easy Fix Inverted Window Glass Custom Made Manual Or Electric 25mm Fabric Light Filtering Or Blackout

Cellular(honeycomb) shades are the most all-purpose, handy, and customizable window treatments you can put in your home.
The special honeycomb cells have major benefits like added insulation, light filtration, room darkening options, and stack in a neat, accordion-like.
Cellular Shades are a stylish way to boost your home's efficiency, keeping you warm in the winter and cool in the summer, and saving you money on your monthly bills.
Honeycomb Cellular Shades are available in single & double cell fabrics,Standard pleat sizes of 1'' with light filtering and blackout fabrics.
Custom Made Controls Selection:

(Bottom Up) Cordless Mechanism
(Top Down Bottom Up)Easy Fix Inverted Window Glass
(Top Down Bottom Up) Cordless Mechanism
(Top Down Bottom Up) Cord Mechanism
(Top Down Bottom Up) Chain Mechanism
Electric (Bottom Up) remote control wire connected motor power DC 110 -240V
Electric (Top Down Bottom Up) remote control wire connected motor power DC 110 -240V
Skylight Roof Cellular Shades Honeycomb Blinds Pleated Blinds (Pole) Cordless Mechanism

Electric Skylight Roof Cellular Shades Honeycomb Blinds Pleated Blinds (Remote Control) Cordless Mechanism
Vertical Cellular Shades Honeycomb Blinds Pleated Blinds (Left/Right Open) Cordless Mechanism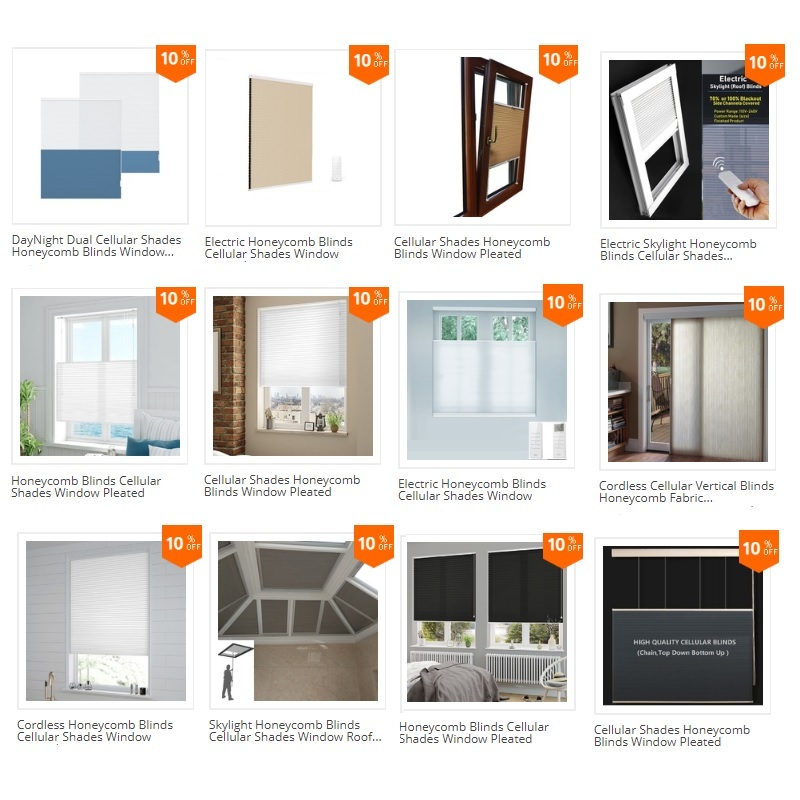 1. The Standard size mechanism as displayed
2. Measure tips :

We make blinds wide included left / right brackets up total wide...




We make blinds height included top brackets and bottom rail up total height ...

Please tell us your roller blinds size( we produce the blinds size exactly as you leave us)

3. The maximum width to Russian is 180cm including package.




4. CUSTOM SIZES:

Wide (30-300)cm | (12''-118'')inch,High (30-300)cm | (12''- 120'')inch , if your window width is over 250cm, we suggest to divided into 2pcs small blinds.

5. We usually write the package value as $15~$20 to avoid the custom taxes.

6. Please contact us if any questions. We will reply you within 24hours.
HOW-TO-ORDER: custom size
Please tell you window details:
1.Product name(or product link) * Quantity * wide * high * Color?
Then,We will quote best price and tell you how to pay online in easily way.
Email : hdcblinds@gmail.com
Brand Name:

KARLLEO
Model:

Cellular shades
Custom Made:

Size | Color | (finished product)
MOQ:

1set custom made different sizes
Control Options:

Manual (Bead Rope) | Electric (Remote control)
Shading rate:

50%~100%
Installation Type:

Ceiling | Exterior
Delivery Time:

1-7day on production
Package:

Film bag/box inside,box outside
Use:

home, hotel,Cafe,Office,hospital,Building
ByHaowen FaWednesday, 05 May 2021
LOVE this blind! It's perfect for my kitchen window when the sun is setting in the spring/summer! I want them for every room in my house!!
ByCaitlin BoydMonday, 03 May 2021
We have purchased and installed these blinds for around 10-15 windows in our house. These are very easy to install, you don't have to be really handy or be totally precise, just screw on two brackets above the window, then the blinds just snap onto the two brackets. These blinds are fully assembled, just put onto brackets to hang them up and they are ready to use. The only part that you need to install are the two clear pull handles, which snap on easily. The quality of these are great. They are smooth to operate. We had a bunch installed in an old house and never experienced any issues, so we bought them again when we moved. Planning to buy more to finish off covering other windows.
ByBritta-SSaturday, 01 May 2021
Exactly what I was searching for! These install very discretely without having to have a valance or similar. You have to be able/willing to drill into your window sill and window opening in general though (which I knew and what I was totally fine with). They are great blackout shades and being able to open up the top for letting in light and still having privacy on the bottom is priceless. The reason I gave them 4 stars was that one guide clips was broken on arrival and there were no extras. For installing the clips, especially in the US market, drywall anchors should be provided. For the size of the screw included in the package, you can't get them at home improvement stores. I went with size #8 anchors and screws. They were the closest thickness wise to the included screws. Also helpful would be a little more detailed installation tips. I had 6 of these to install, so was proficient in the end, but struggled for the first 2-3 with them hanging uneven. If anyone has the same issue: if they are uneven, tighten the band on the higher side of the blind. Or, if already too tight (too much pulling necessary), loosen the tie on the lower side. Yes, sounds counter intuitive, but that's how they are mounted, criss crossed. Also, on one of my blinds the blind 'paper' was pulling out of the upper guide. I fixed it with some tape, but that should be found during QA. Overall I'm happy with my purchase and would buy them again, but would be prepared better (having the screws and anchors already purchased, etc).

ByPlumcoulleeSunday, 11 April 2021
Best window coverings ever! So elegant, smartly made, easy to install, to use, easy to take off and put back on later! They isolate from hot weather in the summer and from cold in the winter! They look as new after years of use! I love them, bought 2 times. I strongly recommend!
ByMCSunday, 11 April 2021
I bought this blind for my son's nursery. It works so well with keeping the room temperature down in summer and completely blocks out all light. I'm not the most handy person and I installed it within 15 minutes. This blind is worth every penny because it helps my little guy sleep better and longer. I would highly recommend this!